ArtSpark & Art Wall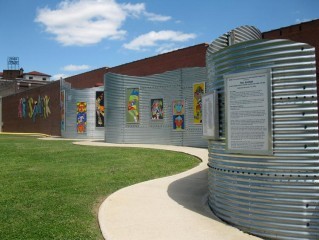 IN 2003, TRAHC and the Norton-Burgess Law Firm developed the only large green space in Downtown Texarkana as a public art park. Designed by art students at Southern Arkansas University in Magnolia, under the direction of Associate Professor of Art Steven Ochs, the landscaped area boasts a Timeline that traces the history of Texarkana from the Caddo Indian era (1000 BC to 1700 AD) through the 1800s, 1900s, and up to 2003.
Items were selected for each era by students at St. James Day School and embedded with the assistance of the Texarkana Independent School District. Adding exceptional color to the park is the ArtWall, an outdoor exhibit space that curves from the ArtSpark, skipping over the alley, and ends on the side of the Regional Arts Center. Works created by area students are transferred to large weatherproof panels and mounted into aluminum frames provided by Alcoa.
The exhibit changes every quarter, and all local school districts participate. In the front is a 140-foot mosaic strip created by artist Sheila Keever with the assistance of children participating in TRAHC's 2004 summer arts program, "Color Texarkana." The lengthy mosaic depicts recognizable aspects and buildings that are unique to the Twin Cities.
This space is a popular spot for photographs as well as a rental space for festivals, receptions, and weddings - when available. Call 903.792.8681 for more information.