ArtsSmart Lower Gallery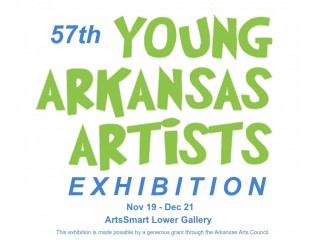 UPCOMING EXHIBITION:

Young Arkansas Artists
Organized by The Arkansas Arts Center
November 19, 2018 - December 21, 2018

In 1961, the Arkansas Arts Center hosted the first statewide Young Arkansas Artists Exhibition to ensure learning, inspiration, and creative expression. Now in its sixth decade, this annual children's art exhibition showcases artwork by students in kindergarten through 12th grade from across the state. Hundreds of works in a variety of media are juried by a professional panel and a chief juror selects a "Best of Class" and two "Honorable Mentions" for each grade. Monetary awards are provided to each winner's school. Each year, selections from the exhibition travel to schools and other venues throughout the state as part of the Arkansas Arts Center's Statewide ArtsReach program. TRAHC is proud to celebrate these young artists in our ArtsSmart Teaching-Touching Gallery.
Arts.Smart Teaching-Touching Gallery

The Regional Arts Center's Lower Level Gallery has been designated as the Arts.Smart Teaching-Touching Gallery. Focusing on a unique instructional model for educators and students, exhibitors obtain 'gallery insider knowledge' as a foundational component of their exhibits.

The Arts.Smart Teaching-Touching Gallery - where students and teachers create and exhibit art for the express purpose of learning proper installation skills, skills for guiding visitors through an exhibit, and how to transform classroom displays into gallery quality exhibits.

For information on how you can participate, call Dr. Becky Black at bblack@trahc.org or 903-792-8681.