ArtsSmart Lower Gallery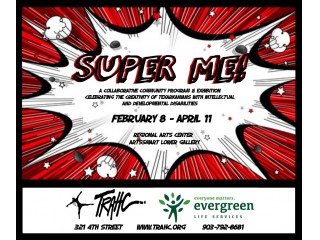 CURRENT EXHIBITION:
Found

January 4, 2019 - February 2, 2019
Often times works are forgotten or left behind by their maker here at TRAHC. First time curators Gabrielle Dillard and Emily Rankin were given the opportunity to make a show with these abandoned art pieces. TRAHC is proud to celebrate these future curators in our ArtsSmart Teaching-Touching Gallery.
UPCOMING EXHIBITION:
Super Me!
A collaborative community project & exhibition
between TRAHC & Evergreeen Life Services of Texarkana

February 8, 2019 - April 11, 2019
"What's your super power? This is the question residents of Evergreen Life Services responded to in their paintings for the TRAHC collaborative community project and exhibition, "Super Me!" Please stop by our ArtsSmart Lower Gallery at the Regional Arts Center to see their wonderful and creative interpretations of the super heroes they are! Your visit to this free exhibition will be a show of support for Evergreen Life Services' mission to better the lives of our fellow Texarkanians with intellectual and developmental disabilities. The exhibition will be on view from February 8 to April 11."
Arts.Smart Teaching-Touching Gallery

The Regional Arts Center's Lower Level Gallery has been designated as the Arts.Smart Teaching-Touching Gallery. Focusing on a unique instructional model for educators and students, exhibitors obtain 'gallery insider knowledge' as a foundational component of their exhibits.

The Arts.Smart Teaching-Touching Gallery - where students and teachers create and exhibit art for the express purpose of learning proper installation skills, skills for guiding visitors through an exhibit, and how to transform classroom displays into gallery quality exhibits.

For information on how you can participate, call Dr. Becky Black at bblack@trahc.org or 903-792-8681.