Buy Tickets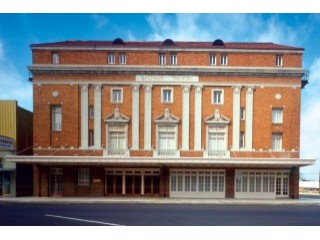 How To Buy Tickets: and beware of scalper sites!
There are three (3) legitimate ways to buy tickets to a Perot Theatre performance:
Online through our ticket site or the "BUY TICKETS" button beside any ticketed show
By phone (903) 792-4992, Mon. - Fri. 10am - 5pm
In person at the Box Office on the corner of W 3rd & Main St, Mon. - Fri. 10am - 5pm
Beware of third-party scalper sites! While tickets are available on third-party tickets brokers websites,
you will pay 2 to 3 times our price
. Also, they may not be the tickets you think you are receiving. In most cases they don't even have the tickets in hand; they are just trolling for buyers who mistakenly go there using a search engine without realizing the site has no relationship with TRAHC/Perot Theatre. At best, they simply buy from our web site and then resell them for three times what they are being sold for through us. At worst, they sell counterfeit tickets that are not useable.
We cannot make any guarantees when you purchase from an alternate website.
Please familiarize yourself with the policies below, and we look forward to seeing you here!
See full calendar of events.
When Do Perot Theatre Series Tickets Go On Sale?
Tickets for the Perot Theatre Series are on sale now.
Perot Theatre Series tickets must be purchased by phone through the Perot Theatre Box Office at (903) 792-4992. Individual performances can be purchased on-line, by phone, or in person.
Perot Theatre Ticket Policies
All ticket sales are final. Tickets are nonrefundable.
All patrons regardless of age must have a ticket to enter the auditorium.
A service charge of $2.50 per ticket will be added to internet orders.
A Perot Theatre Enhancement Fee of $2 per ticket is added to all orders.
Tickets to Perot Theatre Series shows may be exchanged for another event in the same series up to 48 hours prior to the event for which you have tickets.
There is a $5 fee for exchanges. Exchange fees are waived at certain levels of membership. See Membership Benefits.
Ticket exchanges may not be available for all events.
For Perot Theatre Series mainstage shows children under 3 will not be allowed in theatre.
Tickets will not be mailed within 7 days of a performance but may be picked up that the Perot Theatre box office M - F 10:00 AM to 5:00 PM.
The Perot Theatre does not have an elevator to the balcony. Mobility impaired patrons should call the Perot Box Office to discuss your seating options.