Regional Arts Center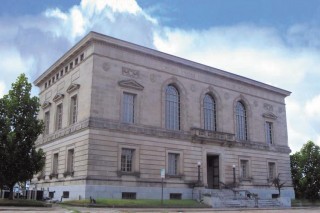 The Regional Arts Center began life as the first Federal District Courthouse in Texarkana. Construction was started in 1909 but not completed until 1911 since it was in the middle of the "bawdy" district.  Workers would do a morning shift, but not return!
In 1931, the District Court moved to Sherman.  The facility was then donated to Bowie County and became the Bowie County Courthouse in 1933. Following their move to a new courthouse in New Boston, TX, TRAHC has had a lease/purchase agreement with the county since May 30, 1985.
Following a capital campaign, renovations on the building were completed at a cost of $1.6 million resulting in the only museum-quality, high security exhibit space between Dallas and Little Rock.  Many of the original features were kept including marble floors, vaulted halls; and, although completely re-worked, one of the few brass/copper cage elevators left in the country.  The former courtroom was transformed into an elegant rental hall with decorative painting by the same artisans who worked on the Perot Theatre.  Other rental spaces for classes, workshops, and meetings are available on all four floors.
Additionally, the RAC serves as the administrative offices of TRAHC and houses the ArtsSmart Institute for Learning, ArtsSmart consultants, and the unique Women for the Arts For Arts' Sake Gift Shop.
EXHIBITIONS:
TRAHC'S Visual Arts Program is year-round.  National and regional touring exhibits are displayed in the high-secure galleries while regional and local exhibits are on view in the Hall Galleries, many of which are either organized by TRAHC or are presented under TRAHC's direction. 
TRAHC hosts both an annual regional juried student show and an annual juried adult exhibition, the latter with prize money totaling more than $3700. Each year, hosting partner E-Z Mart Corporation adds to the FaEllen and Jim Yates Regional Arts Collection by purchasing a work from the adult show.  This permanent collection is also housed in the RAC.
A new exhibition space, the ArtsSmart Gallery on the lower level, showcases ever-changing works by students and teachers engaged in ArtsSmart training.

In 2005, the TRAHC Board established a policy for collecting local and regional art.  Beginning with the Yates collection, TRAHC now has a number of pieces that are displayed at various times during the year.
Downloads
A Brief History of the Regional Arts Center